Family Type Manager for Autodesk Revit®
FAMILY TYPE MANAGER is a powerful Excel program designed for Revit users and content creators to easily update Revit Family data in bulk. The features can also be utilized by nearly any business in the world. The program bi-directionally imports and exports Revit family data with Excel using .csv and .txt files for the management of Type Catalogs and Lookup Tables. The program has a Type Builder feature that generates over 1 million unique combinations of family types in a matter of seconds, has a Parameter Builder that generates all 740 Revit parameter types for creating column headers, Unit of Measure Converter for bulk conversions between imperial and metric, and a document management Scratch Pad.
The amazing part about FAMILY TYPE MANAGER is that it works with any version year and language of Revit! Revit families and project files can also remain open during editing and testing for real-time rapid testing and deployment during content creation. Revit is also not required so data can be managed by non-Revit users!
This may be the most powerful and easiest family data management application ever created!  Import family data with the click of a button into an intelligent Excel table.  Create a Master Catalog to use with multiple Revit families, create backup files, create single and multi-default type catalogs, and duplicate Revit families with matching catalogs.  Work in any language, unit of measure and date formatting.  Filter and Sort tables, run error checking of values, find/replace data, and many other features.  This will truly change the way you interact with Revit families when creating and updating data.  See below the full list of amazing features!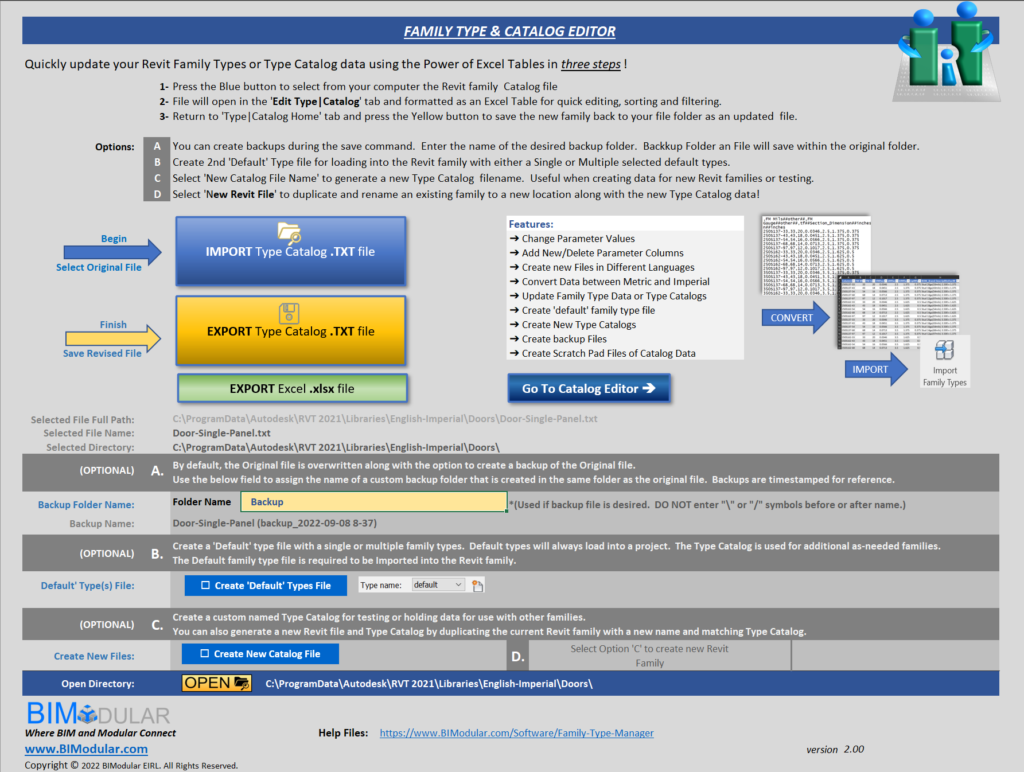 One Click importing of Type Catalog files
Create Master Catalog Files, Single and Multi-Default Type Catalogs
Duplicate and Rename Revit Families
Create Backups
Filter and Export Type Catalogs
Catalog Multi-Level Sorting
Any Revit language, any unit of measure and date format.
Export Excel Files
Change Revit data versions with a click of the mouse
Bulk update Type Catalog data with Excel
Copy/Delete Rows
Add or Remove Prefix and Suffix values to any cells
Search and Replace table data
Resize the table when adding more columns or rows
Filter and multi-level Sort the table data
Quickly convert headers for Revit 2010-2020 or 2021-Current
Run error checking for Type Name, Header names, numberic data, and invalid Revit or Database characters!
Simplify your Revit families by tapping into the power of Lookup Tables.  Use Lookup Table editor to create tables for nearly any Revit family, quickly perform bulk updates with the power of Excel, export tables, run error checking, and build Master lists for international and history tracking of family data.  You can even create internal relational databases within Revit families!  See below the full list of amazing features!
One Click importing of Lookup Table files
Create Master Lookup Tables for Multiple Families
Create Backups
Filter and Export Lookup Tables
Multi-Level Sorting
Any Revit language, any unit of measure and date format.
Export Excel Files
Change Revit data versions with a click of the mouse
Edit Family Lookup Tables
Create Multi-line Data Fields
Create new Lookup Tables
Duplicate Lookup Tables
Use with External Data Sources
Create Relational Database Lookup Tables
Use Lookup Tables for most Revit Family Categories
Leverage the power of parametric families with Type Builder!  Create up to a million family type configurations in seconds!  Type Builder allows you to enter up to 10 parameters and 15 variations per parameter in any language and unit of measure to generate all possible unique combinations. Then import selected options into Revit to build your complete catalog. It has a Type Name rules engine, allows for alternate values, custom columns, feet-inch conversions, and custom formatting of cells. Never has family type creation been so fast and accurate!
Create over 1 million configurations in seconds
Data for Family Types
Data for Lookup Tables
Data for Database Systems
Make hundreds of Revit Family Types within minutes
Share data with clients
Formatting Revit headers can be difficult and error prone.  We have changed the way header parameter names are created by using Excel dropdown lists to make Revit parameter headers in any language and any Revit version.  The cascading dropdown lists provides only relevant information for each selection.  It also changes the formatting based upon Revit year versions, provides use definitions, imperial or metric, error checking, and exporting to external Excel files!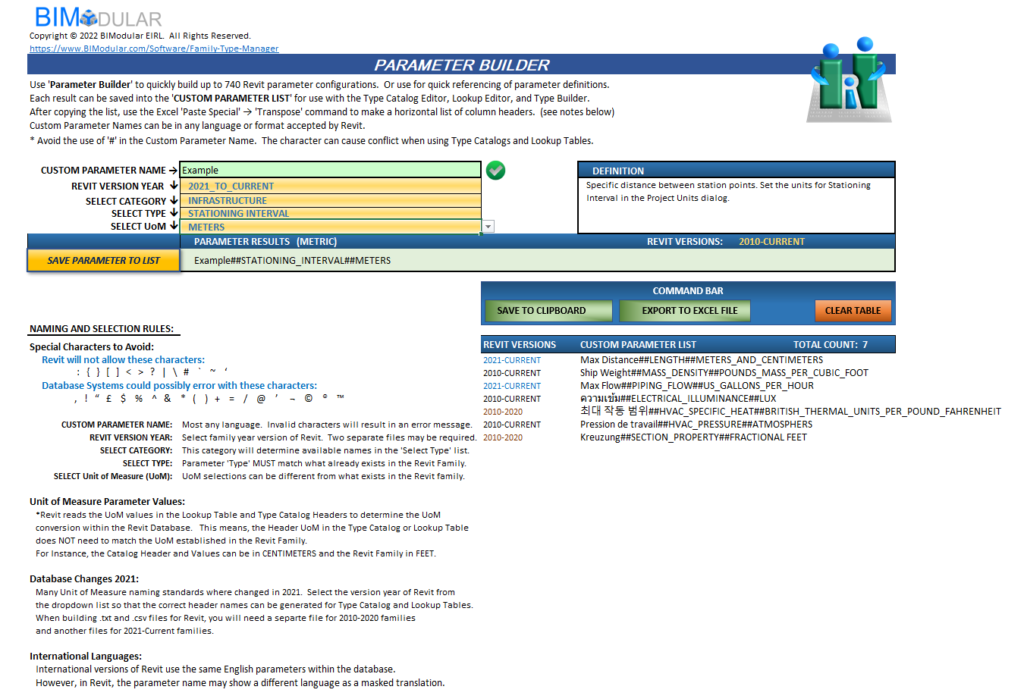 Search all 740 parameter types with definitions
Create custom lists of unique parameter names
Parameters are filtered by category, type, and unit of measure.
Shows imperial and metric assignments
Shows parameters by Revit version years
Updating Revit families can be difficult if product information is in different locations.  With Scratch Pad, you can import and combine text and image files into a single worksheet. Link your data to the Scratch Pad when updated Type Catalog and Lookup Tables, then save the Scratch Pad for future re-use.  Another way to make your work easier and faster!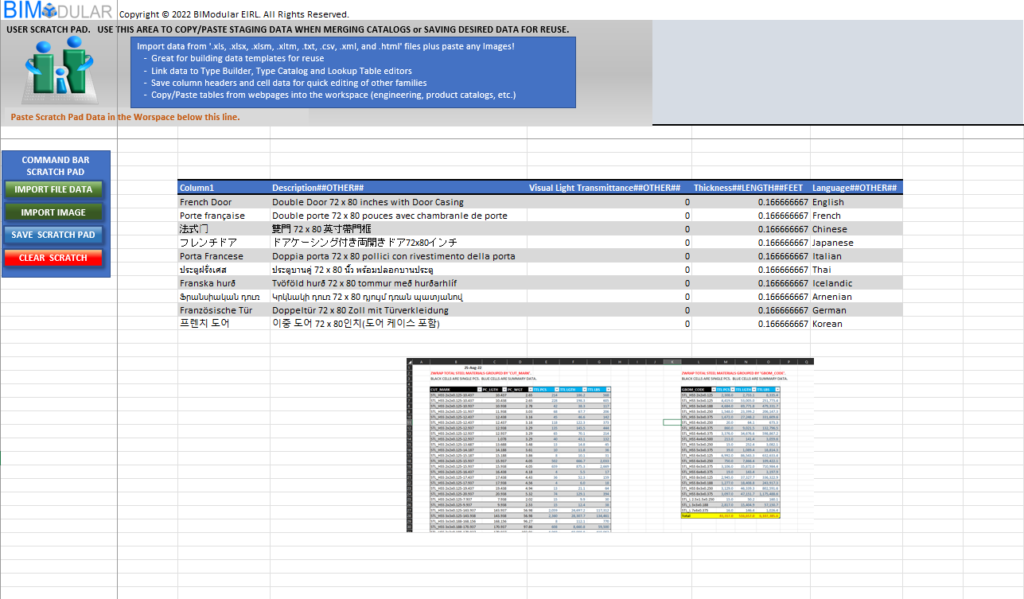 Import select data from other Excel files, .xml, .csv, .txt, .html, and images
Export data to new Excel files
Link data with all Family Editors or external data sources for quick updates
UNIT OF MEASURE CONVERTER
Do you ever wish your Revit values were in a different unit of measurement? To simplify the need of converting measurements between imperial and metric, we built an application that allows you to convert of up to 5 million values in a single sheet with copy/paste features.  Copy your existing values, convert the values, then paste the new values back into your catalog.  Done.  You can now quickly convert your international catalogs to any metric version or imperial unit of measurement within a few clicks of a mouse.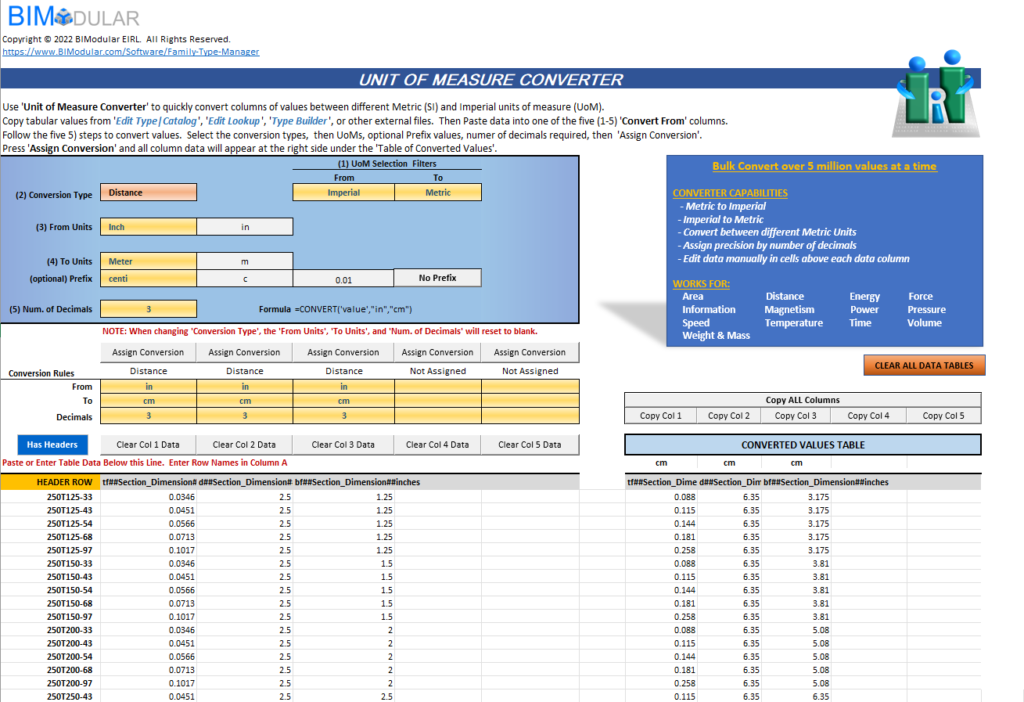 Quickly convert thousands of rows of data between Imperial and Metric units of measure.
Convert up to 5 columns
Control decimal values
Assign prefix values to metric measurements
Copy data to other applications
5+ million conversions
Convert: Area, Distance, Energy, Force, Information, Magnetism, Power, Pressure, Speed, Temperature, Time, Volume, Weight, and Mass.
Finding information about Revit Type Catalogs and Lookup Tables can be time consuming.  We provide a summarized technical worksheet to learn all about working with Revit Type Catalog and Lookup Tables.  The worksheet covers general requirements, workflows and rules.  Also use the links to have quick access to our updated video library and User Guide.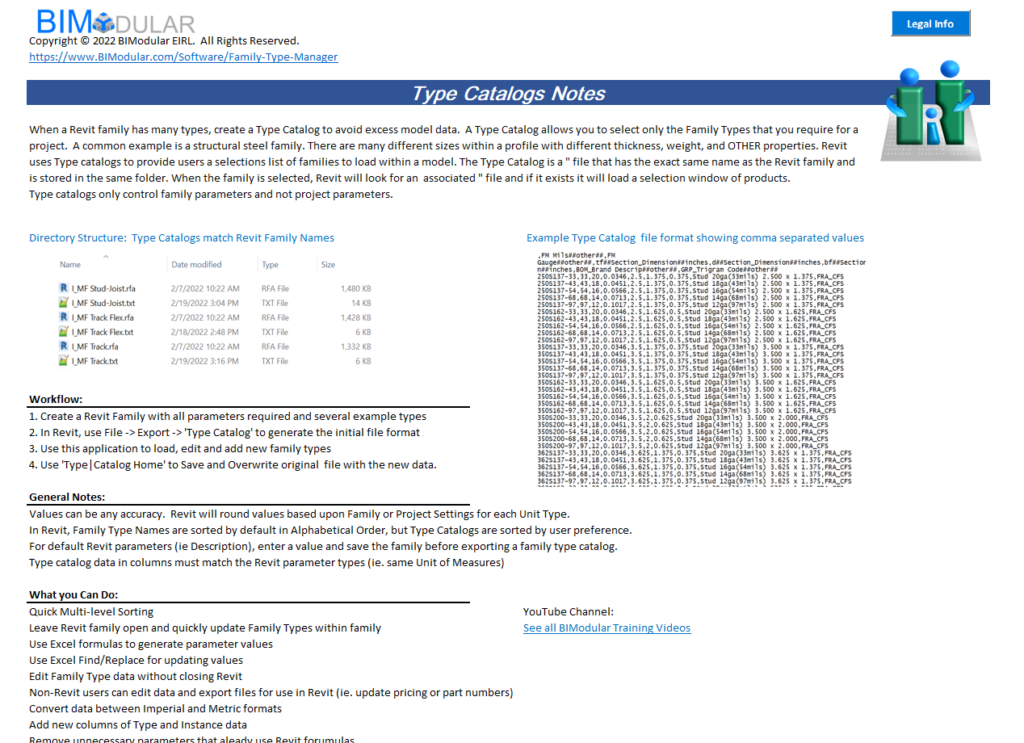 Detailed information on how to work with Revit Type Catalogs
Detailed information and rules for working with Lookup Table
Click the '

BUY

' button to download a free 15 day trial.  After your trial you can then purchase and activate your 1-year subscription to FAMILY TYPE MANAGER!