MEP Hanger & Support Distribution in Revit®: BIM Software for Fast, Accurate Layouts
MEP Hangers (previously named Smart Hangers) enables the instant large-scale insertion of hangers and supports throughout a Revit® model for ducts, pipes, cable trays, and conduits. You get accurate bills of materials and builders work drawings, and accurate on-site assembly thanks to BIM-to-Field features.
The software uses simple yet highly flexible rules to select the relevant Revit® MEP systems and add (or modify) needed hangers or supports with their various connections. They can be distributed as a fixed number per segment or based on the distance between bearing points.
MEP Hangers can split ducts, pipes, cable trays, and conduits into predefined lengths as needed, and marks all service components for fabrication. For on-site precision and efficiency, it exports bearing points to Trimble or TopCon tools and drilling robots.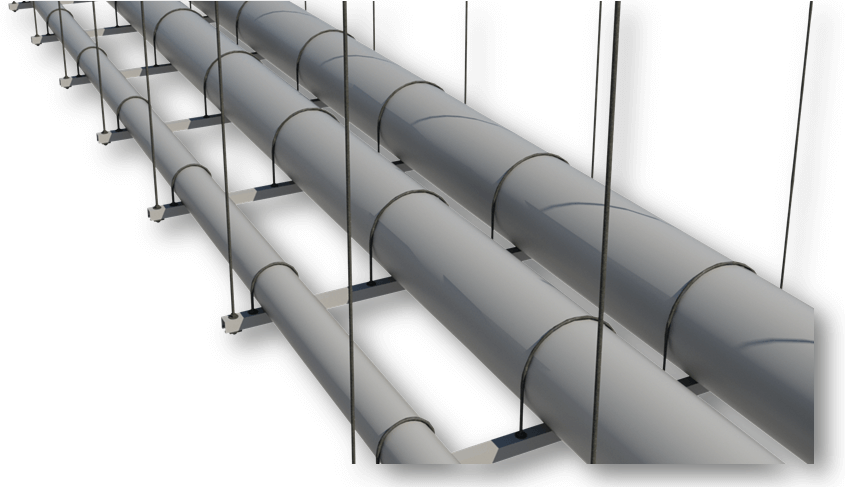 Compatible with Autodesk® Revit® 2022, 2021, 2020
*Please note that MEP Hangers is not a family library. To help new users get started with the software, however, a complimentary selection of families is provided upon license purchase.
When the time comes to distribute hangers and supports in YOUR project, save hours of painstaking manual work. Let MEP Hangers do it for you!
Automatically distributes hangers and supports throughout a Revit® model for ducts, pipes, cable trays, conduits, and line-based generic model families.
Uses predefined and customizable rules to distribute exactly the way you need.
Automatically sizes hangers and supports according to MEP service size.
Automatically connects to architectural or structural elements (like walls, floors, roofs, beams, etc.).
Automatically adjusts to accommodate sloped MEP services or sloped structural elements or reference planes from the current or a linked project.
Splits MEP services into segments by predefined lengths that come from the manufacturer.
Enhances BIM teamwork and deliverables for integrated project delivery (IPD). Works with IFC format files!
One-click shop drawing generation.
Gravity point foundation according to hanger material.
If you have hundreds or thousands of hangers and supports to insert into your Revit® model, MEP Hangers is just the solution for you.
Ideal for:
Plumbers, HVAC engineers, fire protection engineers, electricians  Distribute hangers and supports on all MEP line-based elements
Experienced BIM Managers  Control BIM model and clash detection
New Revit® users  Easily distribute hangers and supporting elements instead of using basic Revit tools.
Powerful features:
COLLABORATION
Possibility of working with IFC files
Export data to external software
More detailed analysis of intersections between different parts of your project
COMPLIANCE
Simple to manage model and hanger modifications
Option to create your own distribution rules
Complementary sample hanger library containing hangers for ducts, pipes, cable trays, and conduits
EFFICIENCY
Easy and quick distribution of hangers, supports, and splitting elements
Time to distribute 100 hangers? Less than 5 seconds.
Generate shop drawings in one click
---
Would you like a quote or a live demo given by one of our experts? We're here to help.