Effective management of MEP supports in Revit® models
MEP Hangers (previously named Smart Hangers) provides a set of tools for distributing hangers and supports along ducts (round or rectangular), pipes, cable trays, conduits, or other line-based generic model elements.
MEP Hangers allows users to work with functionality beyond that contained in Autodesk® Revit®. This BIM solution expands the Autodesk possibilities and lets users work with hundreds of elements at the same time. With MEP Hangers, Revit users can distribute hangers and supports along line-based elements using the most popular distribution rules.
This application for Revit allows users to find the distance between elements, define start and end distances, and select the manner of distribution. Users can also predefine the structures to which hangers and supports should be attached. Need to split a duct? No problem. MEP Hangers offers many splitting possibilities that follow the same rules as for hanger distribution. This solution has exclusive functions distributing hangers and supports in Revit MEP projects.
MEP Hangers works with specially generated families that have variable parameters. Using such families, users can distribute hangers and supports that will attach to any structure. This solution also works with IFC files if the IFC is imported correctly.
Features
Allows designers to quickly & easily distribute hangers and supports in a BIM model.
Customizable placing rules allow you to locate hangers or supports on ducts, pipes, cable trays, conduits, or other line-based generic model elements.
The most popular rules are already created for placing hangers or supports, but the user can still modify or create new ones.
Hangers and support can be attached vertically or horizontally to sloped roofs, floors, structural foundations, structural framing, walls, or even reference planes from the current or linked project.
Hangers or supports can be distributed according to structural framing or lines that are above/below ducts, pipes, cable trays, or conduits.
Updates hangers or supports if there are any changes in the project.
Multi-run hanger possibility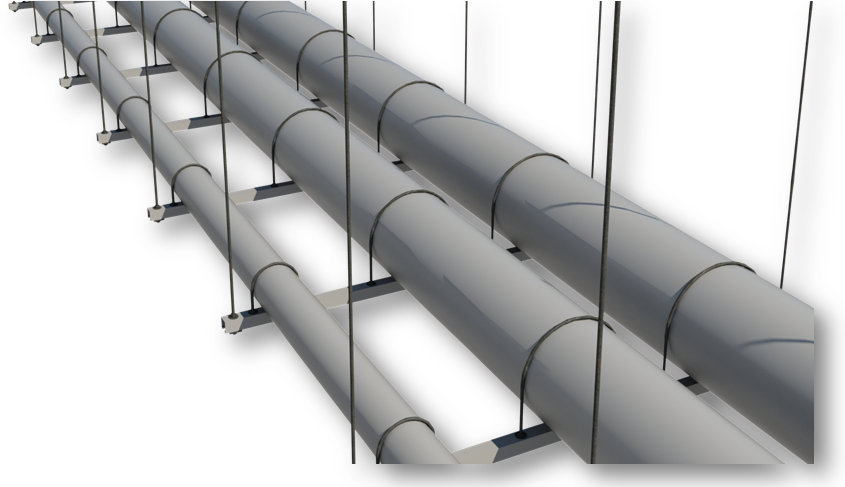 Multi-tier hanger possibility
Simple tool splits ducts, pipes, cable trays, conduits, or other line-based generic model elements into segments according to manufacturer's specified lengths.
Option to distribute hangers or supports along ducts, pipes, cable trays, or conduits that come with IFC format.
Inserts gravity points on elements.
Please note:
MEP Hangers BIM Solution is software for automatically distributing hangers and supports throughout a Revit® project. It is not a family library. To help new users get started, however, we provide a complementary library upon license purchase. These sample families may be used directly in a project or serve as a basis for creating your own hanger and support families.