Precast concrete detailing software for modeling prefabricated buildings in Revit®
Precast Concrete software for Revit streamlines your 3D design process by automating the modeling, detailing, and documentation stages.
Efficiently model floor slabs, wall panels, beams, and columns. Insert connection details by the batch-load and place reinforcement. By leveraging BIM, all your shop drawings are automatically generated from the 3D model. And if any changes are made to the project, enjoy the benefits of running full-project, real-time updates on the Revit platform. The end result? Quality production and accurate assembly on site.
Model precast concrete walls and floors with easy split, update, and modify options.
Automatically insert connection details throughout your BIM model according to your predefined rules (including plates, lifting bolts and inserts, steel bar, reveals, cuts, grout tubes, loop connections, etc.)
Make element sections and views with automatic dimensions, and generate bills of materials and shop tickets for quality fabrication and accurate on-site assembly.
Manage changes in your project and benefit from dynamic updating of assemblies.
       Compatible with Autodesk® Revit® 2022, 2021, 2020
---
What does the workflow look like?
CREATE PRECAST ELEMENTS – INSERT CONNECTIONS – PLACE REBAR – SORT ELEMENTS – GENERATE SHOP DRAWINGS
Going to build a modular building: school, library, parking garage, or dorm? Perhaps an apartment building or a high-rise? Maybe the county jail? Whether you're designing a commercial or residential construction project, precast concrete can get the job done fast and stand the test of time.
Our Precast Concrete Revit-based software will help boost your profits and keep costs down by saving time, eliminating or automating lengthy tasks (shop tickets, anyone?), and speeding up the workflow. It also ensures that best practices are followed because we went ahead and built them right into the software for any design standard. And what's more, we continually implement feedback that comes in from our expert users.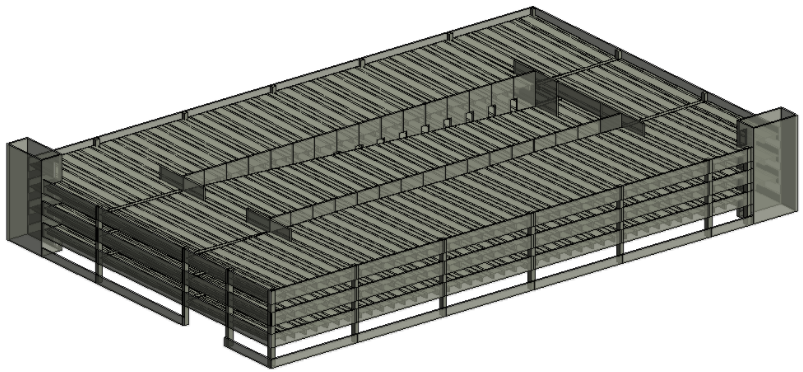 Do you need to model concrete reinforcing steel? No problem. Our software works for reinforced precast concrete. If it's prefabricated concrete slabs or walls, columns, or beams that you're modeling, our Revit application will streamline your process.
ESSENTIAL PRECAST DESIGN TOOL
The table below shows which parts of the precast concrete building design process can be accomplished using Revit and which parts pertain to our Precast Concrete detailing software.
Precast Element
(or Process)
Modeling
Main
Elements
Inserting Details, Connections, Cuts, etc.
Numbering
& Sorting
Documentation (Schedules/ Shop Tickets/ Shop Drawings/ Material Takeoffs)
Foundations
Revit
Smart Connections
Sort Mark
Smart Assemblies
Precast columns
Revit
Smart Connections
Sort Mark
Smart Assemblies
Precast beams (rectangular, I, L, T, or inverted T beams, I-girders)
Revit
Smart Connections
Sort Mark
Smart Assemblies
Double Tee slabs
Floor Panel Layout/ Floor+C / Revit
Smart Connections
Sort Mark
Smart Assemblies
Hollow Core slabs (voided slab or concrete plank)
Floor Panel Layout/ Floor+C/ Revit
Smart Connections
Sort Mark
Smart Assemblies
Massive slabs
Floor Panel Layout/ Floor+C/ Revit
Smart Connections
Sort Mark
Smart Assemblies
Filigran slabs
Floor Panel Layout/ Floor+C/ Revit
Smart Connections
Sort Mark
Smart Assemblies
Massive walls
Smart Walls/ Revit
Smart Connections
Sort Mark
Smart Assemblies
Sandwich walls
Smart Walls/ Revit
Smart Connections
Sort Mark
Smart Assemblies
Architectural walls
Smart Walls/ Revit
Smart Connections
Sort Mark
Smart Assemblies
Spandrels
Smart Walls/ Revit
Smart Connections
Sort Mark
Smart Assemblies
Architectural sills, banding, lintels, coping, modular veneer
Smart Walls/ Revit
Smart Connections
Sort Mark
Smart Assemblies
Socle panels
Smart Walls/ Revit
Smart Connections
Sort Mark
Smart Assemblies
Stairs
Revit
Revit
Sort Mark
Smart Assemblies
Stair landings
Revit
Revit
Sort Mark
Smart Assemblies
Reinforcement (Rebar/ Steel bar)
Wall Reinforcement/ Beam Reinforcement/ Column Reinforcement/ Revit
 
Sort Mark
Smart Assemblies